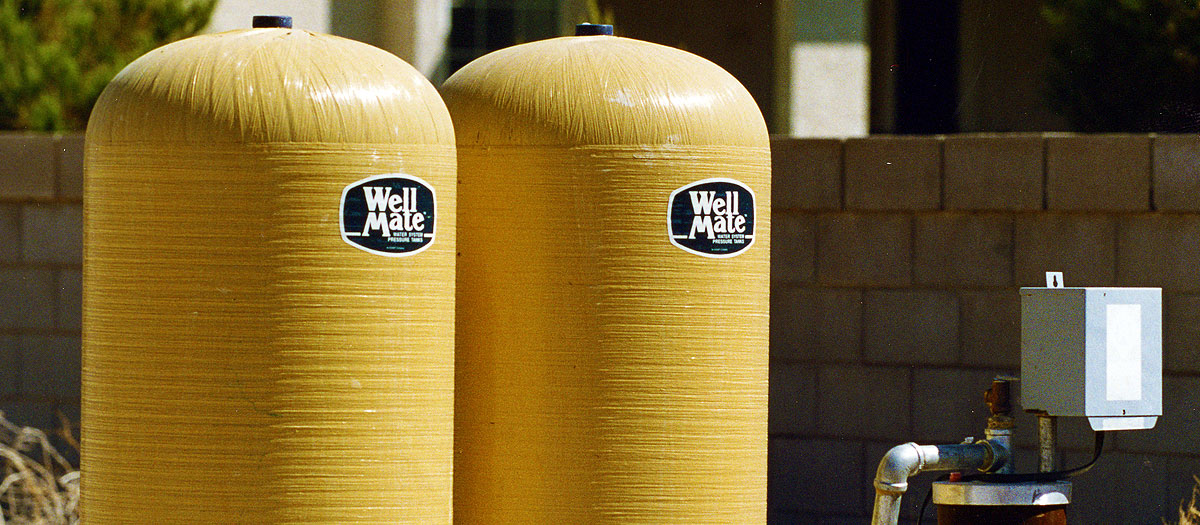 Financial incentives
Well Sub-Meter Assistance Program offered
The Southern Nevada Water Authority offers a Sub-Meter Assistance Program to help well owners monitor and reduce their water use.
The Sub-Meter Assistance Program provides well owners, particularly those on community wells, with a one-inch water meter and a $150 rebate to help offset installation costs.
Participating well owners must have the meter installation verified by the Nevada Division of Water Resources to receive the rebate.
The Advisory Committee for Groundwater Management recommended the program to help well owners manage their water use in anticipation of imposed fines.
The Nevada Division of Water Resources is able to assess penalties and fines to well owners who over-pump their permits or commit other violations of Nevada Water Law.
Unless metered, a home on a community well does not have an accurate gauge for how much water the household is using. The program helps well users determine if they are within their permitted allotment.
The program is open to both community and domestic well users. For more information, please call the Groundwater Information Line at 702-258-7288 or email us.
Step 1: Get Your Meter
To get started, fill out the Submeter Application Form and print it, then mail or fax your completed application to:
Las Vegas Valley Groundwater Management Program (MS 760)
c/o: Southern Nevada Water Authority
1001 S. Valley View Blvd.
Las Vegas, NV 89153
702-258-7146 - fax
You also can call 702-258-7288 to receive an application by mail. To be eligible for the meter and installation rebate, complete payment of the Groundwater Management Fee is required. Once your application is approved, a one-inch meter will be mailed to you.
Step 2: Get Your Rebate
Meters must be installed within one year of distribution. Once your meter is installed, fill out the Installation Rebate Application online, print it, and mail or fax it in. The meter must be installed per specifications in order to receive the rebate. Only meters provided through the Sub-Meter Assistance Program qualify for the installation rebate.
Get smart with conservation opportunities
Get water smart with the Southern Nevada Water Authority's conservation rebates and services. When funds are available through the Groundwater Management Program budget, well users can receive incentives and rebates by participating in the following programs:
Rebate Coupons
The Southern Nevada Water Authority offers several instant rebate coupons for single-family, residential property owners. Redeem the coupons for one of these qualifying, water-saving products:
Eligible well owners must be in good standing with their annual groundwater management fee and may redeem one coupon per property address for each program.
Water Audit Kits
Curious about the water efficiency of your faucets, toilets and showers? The Southern Nevada Water Authority provides a free Water Audit Kit so you can test your fixtures.
Water Smart Car Wash Coupons
If you use a Water Smart Car Wash, the water is recycled on-site or sent to a water treatment facility where it is treated and sent back to Lake Mead. Visit SNWA.com to find a Water Smart Car Wash near you and print coupons.
Water Smart Landscapes for Homeowners
The Water Smart Landscapes rebate helps property owners convert water-thirsty grass to a lush, yet water-efficient landscape. The Water Authority will rebate customers $3 per square foot of grass removed and replaced with water smart landscaping.
Participants must contact the Water Authority before removing any existing turf. Eligible well owners must be in good standing with their annual groundwater management fee. This program is based on availability of funds and limited to 2,500 square feet per property connected to a well.
Since 2002, when the Water Authority Board approved to extend existing conservation programs to well owners, well-using households have stepped up and overwhelmingly participated in this effort, converting more than 1.8 million square feet of turf to water-efficient landscaping.
Conservation Helpline
Call the Conservation Helpline at 702-258-SAVE (7283) to request water-saving publications and conservation program information.
A conservation staff representative is available to answer your questions Monday through Saturday from 8 a.m. to 5 p.m., excluding major holidays. You can leave a voice message or report water waste outside business hours 24 hours a day.
Finding leaks
Not all leaks are as obvious as a dripping faucet. If you hear water running in your home when no water is in use or your water usage is suddenly higher than expected, you might have a water leak. If you have a metered well, the steps below can help to find out if there is a leak on your property and where it's coming from.
Find out if you have a leak
Turn off all of your water fixtures and appliances (don't forget the ice maker, water filtration system and other systems), then find your water meter.
Depending on the type of meter you have, you'll see either a red flow indicator or a sweep hand. If the sweep hand or flow indicator is still moving after you've turned off all of the water in your home, you might have a leak.
Turn your water fixtures and appliances back on, but try not to use them until you know where the leak is coming from.
Learn more about finding and fixing leaks at SNWA.com.
Find the source
The next step is to find the source of the leak. Turn off fixtures and appliances one by one, checking the meter after you turn each one off. If the flow indicator or sweep hand is still moving when you check the meter, you haven't found the leak yet. Continue turning off fixtures and checking the meter until the meter stops—then you'll know you've found the source. Items to turn off include:
Toilets, which can be turned off at the base.
Faucets, which can be turned off below the sink.
Sprinkler systems, water softeners, swamp coolers, ice machines and reverse osmosis units, all of which have a bypass valve that lets water bypass the unit.
Check the main service line
If you still haven't found the problem, try checking the main service line. Find the water shutoff valve to your home. It will be either in your front yard, in your garage, or near your water softener. Shut off this valve, turning off all water to your home. Turn on a faucet to make sure there is no water, then check the meter. If the meter is still moving, the leak is most likely between the shutoff valve and the water meter.
If you've found your leak, you may be able to fix it yourself. Repairs to toilets and faucets can be fairly simple, while other leaks may need a professional plumber. Don't get in over your head. If you're not sure you can fix it, call a professional.
Check out the water efficiency of your fixtures by requesting a free Water Audit Kit from the Southern Nevada Water Authority.